Solar Energy Systems in Hyattsville, MD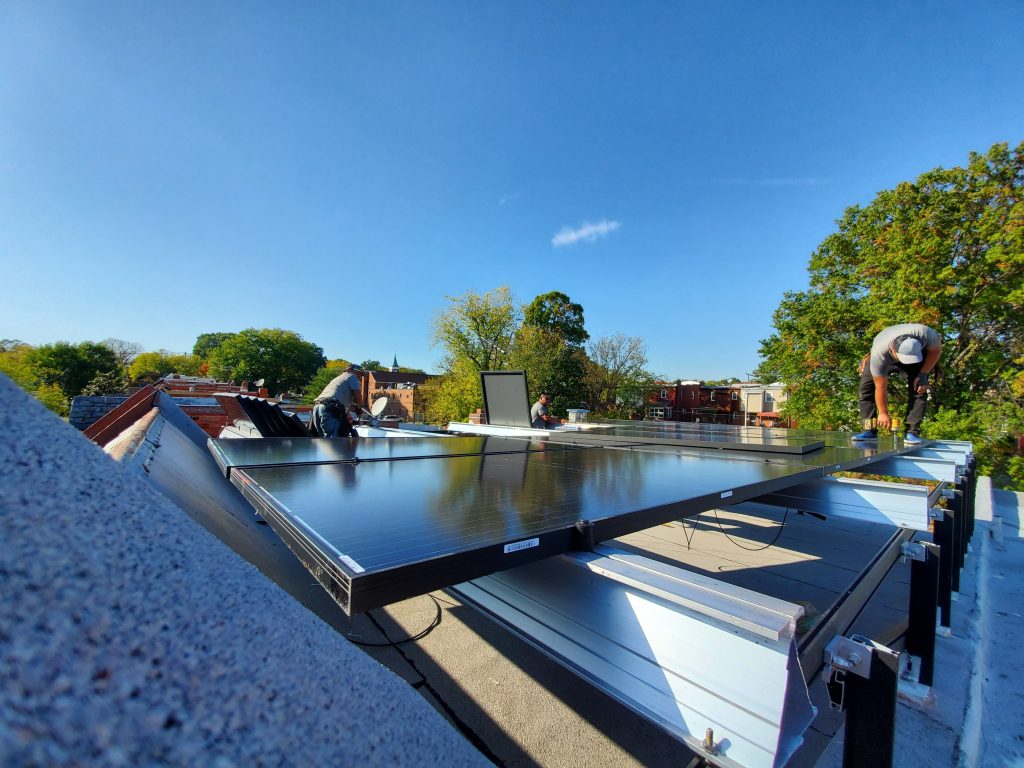 Solar Installation in Hyattsville, MD
Hyattsville gets its fair share of sun-filled summer days and days with only partial cloud cover, making it a more ideal site to go solar than many residents realize. 
As Maryland continues to pursue its Renewable Portfolio Standard commitment to increase the use of sustainable energy sources, homeowners and business owners are encouraged to take advantage of multiple savings avenues through solar energy.
Revolution Solar has the construction expertise and solar specialization to ensure your Hyattsville, MD, solar installation is dependable and optimally efficient.
Call (202) 827-6527 today or contact us to learn more about switching to solar.
Residential Solar Installation for Hyattsville Homes
Rooftop solar systems are gaining ground in Maryland, and Hyattsville residents are taking notice. Electricity prices continue to rise — and with summers getting hotter, now is the perfect time to reduce your reliance on the grid. Investing in a residential solar energy system for your Hyattsville home will provide returns, including:
· Increased property value
· Exemption from Maryland taxes on the home value
increase from solar installation
· The opportunity to sell excess energy back to
your utility company
· The option to store excess energy in solar
battery packs
· Reduced or eliminated grid electricity use
There are plenty of Maryland-specific solar energy incentives to look into, and the federal tax incentive remains in place for systems installed by the end of 2022.
Let Revolution Solar be your guide to getting the best deal and returns on quality residential solar systems. Call (202) 827-6527 today or contact us online.
Commercial Solar Installation in Hyattsville, MD
If you're a savvy business owner looking for your next business-building investment, you've probably already considered brightening your company's future with solar energy.
When your customers are concerned with responsible operations, reducing your carbon footprint with solar is a smart move that will also reduce the impact of unpredictable energy costs and sudden downtime when the grid is strained.
Contact Revolution Solar to learn more about commercial solar services in Hyattsville.
Call (202) 827-6527 or contact us today for more on how we can optimize a solar energy system to benefit your commercial property.
Choose Revolution Solar for Your Solar Power in Hyattsville, MD
When choosing to install a solar energy system that will last decades, the quality of your installer should be a key factor. Revolution Solar relies on highly skilled technicians, veteran designers, and a customer service team you can count on to complete projects that stand the test of time — all while saving you money.

Call Revolution Solar today to get answers to your questions and get the process moving with a residential or commercial solar evaluation.
Call (202) 827-6527 today or contact us online for exceptional service and the knowledge you need to start your switch to solar in Hyattsville, MD.
Solar Roof Decks, Patios & Pergolas
Did you know there are options beyond roof-mounted or ground-mounted solar arrays for your home or business? Hyattsville residents now have the opportunity to get creative in the spaces they select by choosing solar rooftop decks, solar pergolas, or solar patios to harvest their energy.
These options are perfect for adding extra capacity to a rooftop system or taking advantage of space that isn't otherwise used.
Get in Touch With Us!
We Offer Practical Solutions to All Your Solar Needs.