Solar Energy Systems in Takoma Park, MD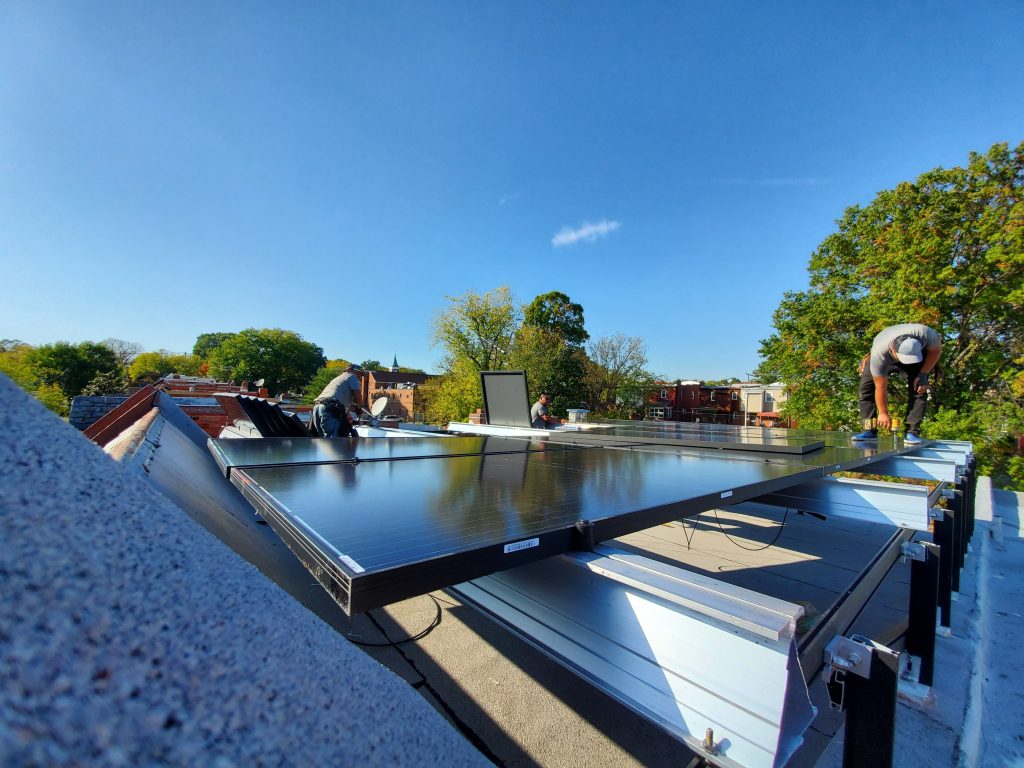 Solar Installation in Takoma Park, MD
Maryland is quickly becoming a solar energy powerhouse, and Takoma Park residents are starting to notice. Maryland has quadrupled solar energy capacity since 2015 and is targeting 50% renewable energy by 2030.
Residential and commercial solar are essential to achieving that goal, and multiple incentives are available to Takoma Park home and business owners to make it happen.
Revolution Solar is Maryland's choice for cost-effective, quality solar installation. 
Solar Installation for Homes
For homeowners, solar panel installation is a better investment than ever before. If you're still on the fence about a solar rooftop system, consider the long-term benefits you'll enjoy:
· Grants, loans, rebates, and/or tax credits from the state of Maryland
· Reduced or eliminated electricity usage costs
· The option to store your own electricity via solar batteries
· Greater reliability through less reliance on the electric grid
Maryland utilities even offer net metering, allowing you to sell your excess electricity back to the grid for credits you can use to lower your bill when you use more electricity.
Call Revolution Solar today to learn more about solar incentives and the systems that qualify for them.
Call (202) 827-6527 to schedule a quick and easy consultation on what system is right for your Takoma Park home.
Commercial Solar
When considering investments in your business, you have several questions to ask yourself, like: Is it affordable? Is the product reliable? Will it help improve operations?
With a solar energy system, the answers are a resounding "yes." Any solar array, including a ground-mounted solar energy system, offers:
· Reduced downtime from power outages
· Shielding from rising energy costs
· Improved reputation via reduced emissions
Revolution Solar is experienced in the extra complexity associated with commercial solar installation and services, and we're ready to help you with this smart business upgrade.
Solar Patios, Roof Decks & Pergolas
You don't have to choose between rooftop and ground-mounted solar options for your Takoma Park home or business. Consider these nontraditional options that maximize space:
·        Transform part or all of your flat roof space to a solar rooftop deck.
·        Create a shady, energy-generating oasis with a solar pergola.
·        Use your existing shade structure by installing solar panels on top of your patio.
      Contact Revolution Solar at (202) 827-6527 for more space-maximizing options.
Your Takoma Park Partner for Efficient Solar Energy
If you're ready to learn more about what solar energy can do for you, Revolution Solar is the expert partner you need in Takoma Park. We provide skilled services, from installation to maintenance and solar panel replacement. Our dedication to quality products and ongoing training means you can rest assured you're getting the best in the business.
Call Revolution Solar today at (202) 827-6527 to see what the switch to solar can do for you.
Get in Touch With Us!
We Offer Practical Solutions to All Your Solar Needs.
Frequently Asked Questions
Questions we commonly receive about solar panels include: