Solar Energy Systems in Washington, DC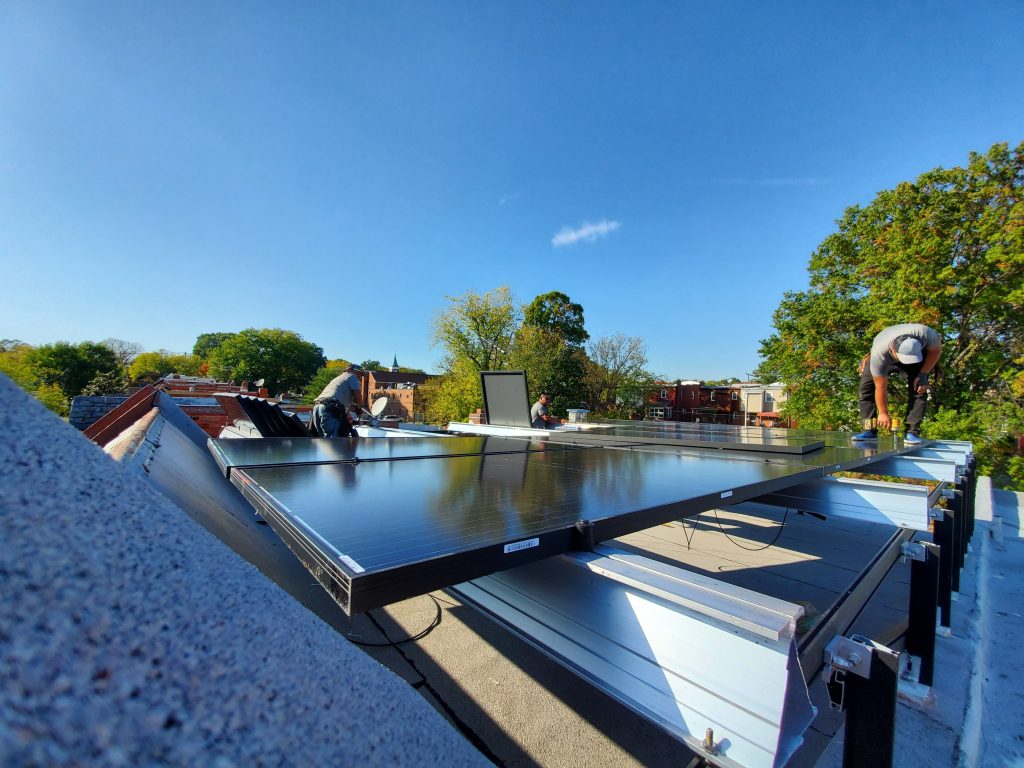 Washington, DC, home and business owners have been fairly slow in adopting solar as an energy source, but that reputation is changing rapidly thanks to several local incentives designed to help DC become a renewable energy leader. 
An initiative called "Sustainable DC" is committed to reducing harmful emissions to 50% under 2006 levels by 2032 and reducing emissions 100% by the year 2050.
The Clean Energy DC Omnibus Act of 2018 and the Renewable Portfolio Standard Expansion Amendment Act of 2016, combined with federal incentives, make now the best time to go solar in Washington, DC. 
Call (202) 827-6527 to learn more about eligibility for incentives and the benefits of quality solar energy.
Solar Panel Installation
Revolution Solar is a leading provider of highly skilled rooftop solar installations for homeowners in DC. Adding a solar energy system to your home comes with many benefits, including:

Reduced or eliminated reliance on a strained and aging electrical grid
Shielded from skyrocketing electricity prices, especially during high-use periods like summer
Reduced or eliminated electricity bills
If you use a solar battery to store your own energy, you can end your dependence on the utility company entirely. And, because DC uses net metering, you may even be able to sell your excess energy back to the grid in return for credits to use later.
Revolution Solar specializes in solar panel replacement and installation for homes like yours. For more information on our services and to start switching to solar energy, call today or contact us online.
Commercial Solar for DC Businesses
Solar energy systems aren't just a smart move for homeowners — they can benefit savvy DC business owners as well.
A rooftop or ground-mounted solar energy system can offset the costs of electricity and make your energy bills more predictable. Plus, companies that invest in clean energy can attract more consumers.
Interested in powering your business with solar?
Call Revolution Solar at (202) 827-6527 to learn more about our DC commercial solar services and financing options.
Solar Roof Decks, Patios & Pergolas
For home and business owners, there are more options for solar than rooftop or ground-mounted systems. To provide extra utilities, Revolution Solar offers these less-traditional options.
Solar rooftop decks: For homes or businesses with flat roofs and space to entertain, a solar rooftop deck can provide shelter from the sun while generating a significant amount of energy.
Solar pergolas: A solar pergola or patio provides the same shade and energy generation with a smaller footprint for those without available roof space.
Revolution Solar specializes in these alternative sources of solar, bringing clean energy to spaces that otherwise wouldn't have the room.
Revolution Solar: Your Energy Partner in Washington, DC
At Revolution Solar, we strive to maximize the benefits of your investment in a solar energy system. We design cutting-edge systems with the highest quality components, and install them with expertise, skill, and respect for your property.
Contact Revolution Solar to start your journey toward energy independence. Call (202) 827-6527 to learn how we can help you make the switch.
Frequently Asked Questions
Common questions we receive about solar panel installation include: 
Get in Touch With Us!
We Offer Practical Solutions to All Your Solar Needs.